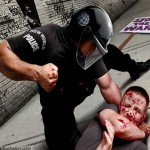 Most police officers are good people who uphold their responsibility without taking advantage of their position of authority. However, if a law enforcement official uses unnecessary or excessive force and causes injury, you may have a claim for the damage caused.
Police brutality can include excessive physical force, physical assault, verbal abuse, violent threats, false arrests, sexual abuse or assault, intimidation, racial profiling, or other kinds of discrimination by police officers, prison guards, and law enforcement officers or officials. The psychological and emotional trauma that comes from this type of brutality can be severe, especially as law enforcement officers are entrusted with protecting people, not violating or abusing them. Violence caused by police brutality can lead to serious personal injury, including wrongful death.
Many people who are abused or assaulted by the police feel there is nothing they can do to seek justice. However, police officers are not above the law. Federal laws state that law enforcement officials can be held civilly liable for civil rights violations — including police brutality.
Sam L. Amirante & Associates personal injury lawyers demonstrate the full extent of your injury in order to recover maximum compensation on your behalf. This may include compensation for medical expenses (including expenses for counseling), time away from work, and other damages associated with your injuries